welcome to the world of personalized scent

Our passion for creating exquisite fragrances has led us to design a one-of-a-kind experience that brings you a fragrance story written specifically for you. Our Chémin Custom Fragrance Experience is the antidote to a world of mass-produced, off-the-shelf scents that lack individuality and character.

In a world where generic fragrances dominate, our Chémin Custom Fragrance Experience stands out with its artisanal raw materials and luxurious sensory encounters that elevate the senses and nurture the soul.

In a world of generic scents, we bring you a tailored perfume experience with notes and accords selected just for you. From our handcrafted artisan fragrances to our luxury sensory experiences, you'll feel elevated while treating yourself with nothing but pure care. Step outside the ordinary and have your fragrance story written specifically for you! This coveted experience is available by appointment only. Please be sure to book early in order to secure your desired date.
about this experience
During your session, you'll be greeted by one of our master artisans, who will analyze your Bespoke Fragrance Assessment to gain a deeper understanding of your personal scent preferences. Using this information, they will curate a unique palette of notes and accords to formulate your custom scent, crafted especially for you.

This 2-hour Fragrance Consultation and Formulation Session with our master artisan is a sensory journey that takes you through the intricate world of fragrance creation. You'll explore each note together, from the top to the base notes, and select the perfect blend that reflects your personality and style.

With your custom scent profile in hand, our master artisan will use their expertise to handcraft the perfect formulation of notes and accords, ensuring that every aspect of your fragrance is tailored to your exact preferences. The result is a stunning 50 ml bottle of your custom fragrance, beautifully presented and ready to take home.

At Chémin, we understand the importance of securing your desired date for this exclusive experience. Our Custom Fragrance Experience is available by appointment only, so be sure to book early to avoid disappointment.

If you're tired of buying fragrances that don't quite hit the mark, step outside the ordinary and indulge in our bespoke Chémin Custom Fragrance Experience. Discover the art of personalized scent and elevate your fragrance game to new heights!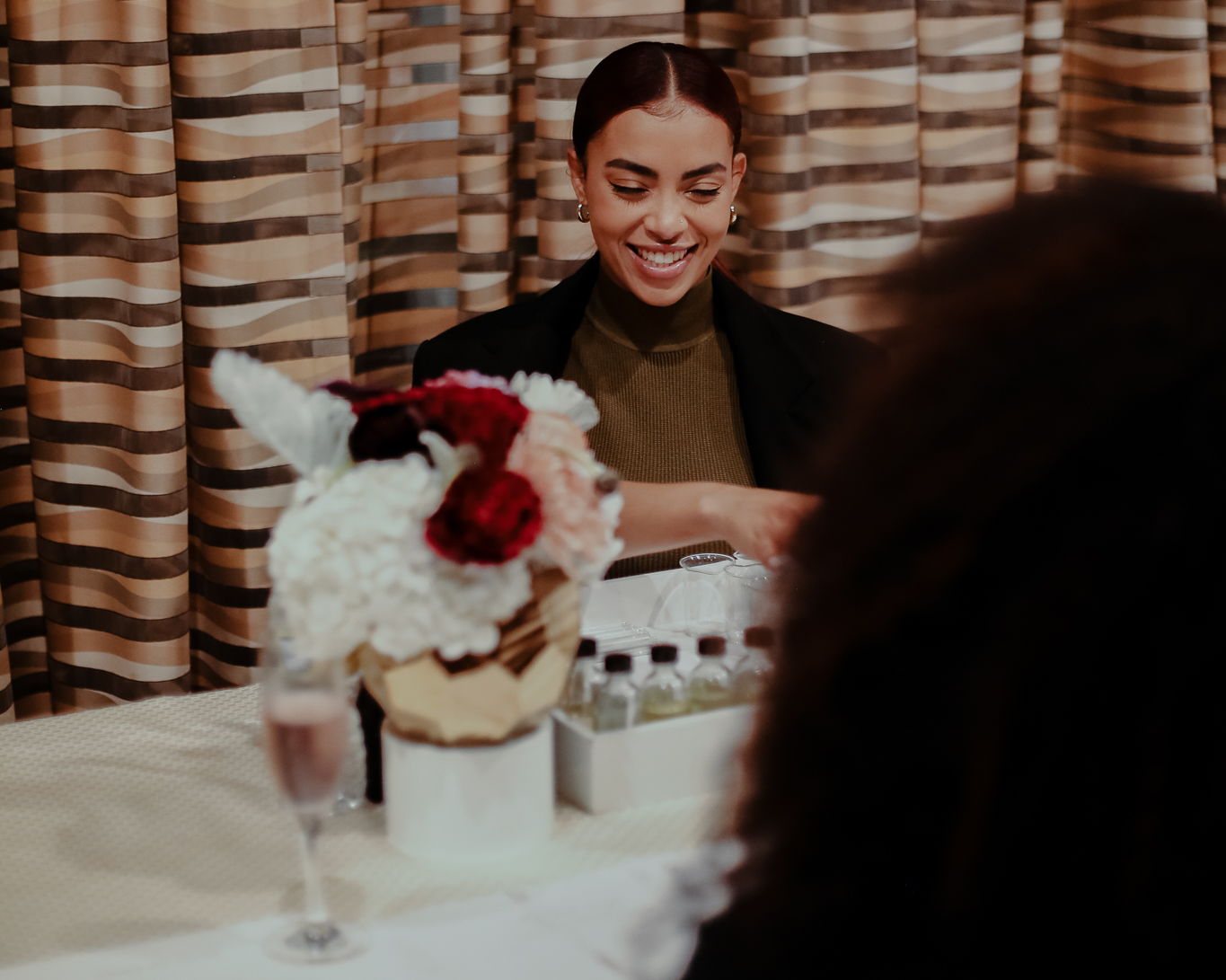 What's Included:
Bespoke Fragrance Assessment
2-Hour Fragrance Consultation & Formulation Session
w/ One of Our Master Artisans
Custom Fragrance Profile
Curated Palette of Notes Selected Based Upon Your Fragrance Profile
One 50 ml Bottle of Custom Fragrance
*Currently, in-person experiences are only available in the metropolitan Atlanta area. If you are interested in hosting a private event, scentsory experience, or becoming a Chémin Master Artisan, email us at
[email protected]