Holo i mua - "To progress, go forward, advance, surpass, go ahead".

Progress is often just about taking that next step, especially when things get tough - you can never stop moving.

The e-manage|ONE Conference 2022 is all about next steps. Over a three day span of training, peer sessions, networking and keynote addresses, we'll explore key concepts that you can implement at your dealership now, using your e-manage|ONE software. You'll take home an actionable to do list. And we'll check in with you during a follow up virtual session in mid-2022 to see how it's going.

Situated at the amazing Turtle Bay resort in Kahuku, HI, the conference will include plenty of time for relaxation and team building with activities in and around the resort.

Right now, your next step for growth is to bring your team to Hawaii in March 2022!
Turtle Bay Resort
57-091 Kamehameha Hwy
Kahuku, HI 96731
*Upon registration & payment you will receive a booking link
March 16, 2022, 9:00 AM - March 18, 2022 - 3:00 PM
*Optional Welcome Reception:
March 15, 2022 at 6 PM
Hannah Ubl
Speaker. strategist. story teller.
Co-founder of Good Company Consulting, an organization dedicated to helping businesses create authentic & empowering workplaces. As a speaker and consultant, Hannah presents communication strategies, generational theory, and action-oriented tools to inform people-first culture and strategy. These insights directly correlate to higher retention rates, improved employee satisfaction, and a positive impact on the bottom line.


Solomon Coyle
MANAGEMENT CONSULTANTS
Solomon Coyle helps contract furniture manufacturers and dealers answer the question "What opportunities, strategies, and competitive advantages could transform your business?" Their team has 30 years of experience in the industry, steadily building the knowledge, data, and services to help organizations redefine how they go to market. Their best practices have stood the test of time and continue to evolve.
Events like this wouldn't be possible without our excellent Sponsors!
*The schedule is subject to change
Mix & Mingle Happy Hour
Join us for a Happy Hour Welcome Reception to kick things off! Come & go as you please but be sure to swing by for a chance to win a fun Hawaiian excursion. Sponsors are welcome to attend this social event. Plus one's are welcome to attend this event if a "Plus One" ticket was purchased.
Meeting of the Minds
Let's meet the e-manageONE team and talk about what our goal here at the e-manage|ONE User Conference is!
Hannah Ubl: Creating a Workplace that Doesn't Suck!
Everyone deserves an amazing place to work… so why do so many people dread getting out of bed in the morning? While you've probably heard the phrase "culture eats strategy for breakfast," rarely do organizations focus their time, money, and resources on improving their workplace culture. This presentation is all about helping clients building and maintaining a thriving culture. It gives leaders and managers a cultural playbook to assess if their own culture is designed to empower their employees. By unpacking the most pertinent organizational design trends, what's worked (and also what hasn't), and exploring basic human motivations, Hannah aims to give fresh insights and tools so you can create a workplace that makes people want to spring out of bed in the morning.
People, Process & Performance
Process is key. In this session we will discuss how to leverage e-manageONE and Action Items to improve your workflow, enhance communication, ensure transparency and enforce accountability.
If it's not in e-manageONE, it doesn't exist!
Let's talk CRM Best Practices. Find out how to utilize the Leads tool to improve revenues and profitability, reduce costs and increase customer loyalty.
Dynamic Design
Join us for Design Best Practices and Tips & Tricks. Design is ever-changing but with these tips & tricks we can ensure things go as smoothly as possible in e-manage|ONE.
Quality Quoting
Let's collaborate and hear about how other dealers are leveraging pricing tools in e-manageONE to work smarter, not harder! We will also learn some Quoting Best Practices and Tips & Tricks from the knowledgeable EMO Staff.
Operation: Operations
In this session, we will discuss all things Operations - Receiving, Scheduling, Work Orders, Punchlists and Time Tracking.
Be Audit You Can Be!
Let's get together to talk through Accounting Best Practices and ensure you are utilizing e-manageONE to the full extent for accounting automation.
Let's Rock Reporting
Reporting is imperative for good metrics & measurements so let's find out how e-manageONE can provide all of your reporting needs.
Meeting the Challenge - IDS!
Identify. Discuss. Solve. Come prepared to talk about what challenges your dealership is currently facing in regards to the topics we have discussed thus far. We can discuss how e-manageONE can be a tool to overcome these challenges.
TBD - Guest Speaker from Solomon Coyle
Check back for additional details!
Exclusive Release of Latest e-manage|ONE Technology (Conference Members ONLY)
Join us to discover our latest technology release that Conference Members will have premier access to!
2022 - Roadmap to the Future
Let's review our e-manageONE Roadmap for 2022 to find out what we all have to look forward to.
That's a Wrap!
Bring all your burning questions to this session as we wrap up this years e-manage|ONE User Conference.
Closing Reception Dinner
Get together with dinner, drinks and a view! Plus one's are welcome to attend this event if a "Plus One" ticket was purchased.
Join us for a chance to WIN...
An extended vacation, golf giveaway, helicopter tour & other Hawaii excursions, free e-manage|ONE licenses and MORE!
*Must be in attendance to win*
Resort & Booking Information
We have reserved a special room rate for the conference, normally $469, discounted to $369/night. The group rate will be available for the entirety of the event + (3) days previous to and (3) days after the event if you would like to extend your stay. You will receive a booking link upon completed registration & confirmed payment.
**Attendees are responsible for lodging & transportation**
Resort Details:

• 100% Ocean View Rooms!
• Only Oahu resort with a Helipad & Helicopter tours
• Only resort on Oahu with its own Stables on premises
• Two Championship 18-hole golf courses
• 25,500 square feet of indoor meeting space and limitless outdoor meeting space
• Largest protected swimming & snorkeling waters in Hawaii
• Group rate will be offered 3 days prior and 3 days after the official program dates, subject to availablity and confirmation by hotel

Daily Resort Charge inclusions $25.00 (Discounted from $49.00) plus taxes:
• Blu-ray with unlimited movie rentals
• Wi-Fi Internet access for in-room and public areas
• 10% off Nalu Kinetic Spa services
• GoPro Camera usage available for guests, visit the North Shore WaterShed for details
• Beats Pill Bluetooth speaker use, dial Housekeeping for details
• Unlimited local telephone calls
• In-room coffee and tea
• Nalu Kinetic Spa Fitness Center & Business Center access
• Snorkeling gear usage at Kuilima Cove
• $10 daily adventure credit redeemable at The Outpost
• One-hour tennis court usage per day
• 10-Minute Stand Up Paddle Land Demo with Hans Hedemann Surf School (weather permitting at scheduled time)
• Basket of range balls at the Fazio Short Game Area, golf clubs provided
• Live entertainment poolside, special events not included
• Pool chairs with umbrellas, available first come - first served
• Kids (5 & Under) Eat Dinner Free at North Shore Kula Grille, with paid adult entrée, excluding holidays
*Resort Fee inclusions are subject to change

Activities on Property:
A luxury beach resort, Turtle Bay also features two lushly landscaped pools, tennis courts, horseback riding, hiking and mountain bike trails, a surfing school, world-class dining and shopping. Guests can relax or play without even leaving the property.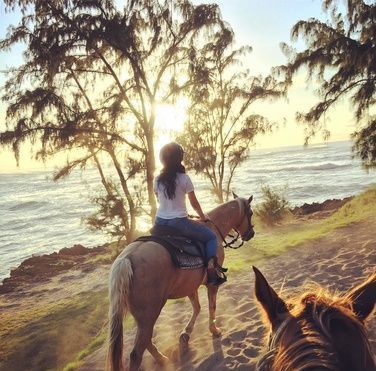 Processing Registration...