REGISTRATION and INFORMATION

29th GLOBAL YOUTH JUSTICE
Establish and Enhance
Youth/Teen/Student/Peer Court, Peer Jury, and Youth Peer Court Diversion Programs
Boston, Massachusetts, USA
OCTOBER 3-5, 2023
Tuesday to Thursday
Training Location
The Boston Foundation's Conference Center
THE BOSTON FOUNDATION
HOTEL
The LA QUINTA of Boston and Somerville by WYNDAM is a HOTEL which Global Youth Justice, Inc. has had a partnership with for 3 Years. Instead of $400+ Boston Hotel Nightly Costs, the Hotel is $189+ Tax w/Airport Shuttle (saves $40 each way), Free Wifi, Free Parking, Free Breakfast, Free Fitness Facility. Website Link is below. After you register, you get an email with code to book rooms, but if you need it before, just contact Global Youth Justice. Please feel free to stay where you like, and what Hotel meets your budget and needs.
REGISTRATION
Registration is only $195, and we spend 100% back on the Training. On Tuesday, Wednesday and Thursday -- Breakfast, Lunch and Afternoon Snack Breaks are provided. You get notebooks, folders, training materials, and More. Global Youth Justice, Inc. subsidizes our Trainings and Conferences, so we never make money off Registration Fees. On the Top Right is a Black Box that says Click to Register --- click that after reading the below.
DESCRIPTION
This Training is designed for Establishing AND Enhancing Diversion Programs Typically called Youth/Teen/Peer/Student Court, Peer Jury, and Youth Peer Court. Althought it is for Establishing New Programs, it is excellent for Adults in Existing Programs, who are new, and/or have not been to one of our trainings. Other Adults attend to Learn more about these unique Diversion Programs operated by 15+ Types of Agencies and Organizations.
For 30 Years, since USA Record keeping began in 1993, these Peer to Peer Diversion Programs have been expanding locally across America -- it is a textbook example of a local grassroots movement, made even more astounding, they the US Federal Government has never directly funded these local diversion programs. State and Local Leaders have been, and continue to be the driving force behind their expansion, which now includes being in 25, 50, and even 75 Counties in some states.
And, since 2002 they have been the most replicated Juvenile Justice Program in America, and the 20 years that have passes, have only further widened their lead, and seen community leaders establish them in schools, police departments, nonprofits, sheriffs offices, civic and service organizations, and more listed below. Now in 48 States and 30+ Tribes, they show no signs of slowing down, especially now that other countries are establishing this American innovations -- as they are also Textbook Inclusive Youth Democracy.
Registration is Primarily for Adults 18+ involved in a wide range of roles in Establshing and Enhancing these Diversion and Discipinary Programs. Adults are primarily in Administrative, Program, Partner, Volunteer, Funding, Policy, Elected, Public, Supervsior, Support Services, Referrals and Related Roles in Youth Justice and Juvenile Justice diversion programs, school-based programs, and community-based programs.
Adults interested in learning more about these rapidly expanding Youth Justice and Juvenile Justice Diversion Programs operated by 15+ Different Agencies, Organizations, Institutions, Education Settings, and others to include public and private.
In the past 30 years, these uniquely American Volunteer-Driven and Youth-Led Diversion Programs have expanded from less than 30 in America, to now more than 2,100+ in 48 USA States, 35+ Tribes, DC, and 12 Countries. Local and State Elected and Public Officials, Community Officials, They are a textbook example of a local grassroots movement, that continues expanding locally in America, and around the Globe. By 2002, these Diversion Programs were the most replicated juvenile justice program in America, and have continued expanding locally.
This 29th Global Youth Justice Training will provide participants with strategies to apply to programmatic, volunteer management, and administrative areas, for improved operation, anof these diversion programs, as

TRAINING AGENDA SNAPSHOT
OCTOBER 3-5, 2023

TUESDAY, WEDNESDAY and THURSDAY

DAILY AGENDA SNAPSHOT
Registration
8:30am to 5:00pm
Breakfast
8:30am to 9:15am
General Session 9:15am to 10:30am
Workshop Sessions
10:45 am to 12:15pm
Lunch
12:15 pm to 1:15 pm
Workshop Sessions
1:30 pm to 3:15 pm,
Workshop Sessions
3:30pm to 5:00pm

OPTIONAL
TUESDAY NIGHT GROUP ACTIVITY
TBA
GLOBAL YOUTH JUSTICE
TRAINING TOPICS AND HIGHLIGHTS
Description, Eligibility, and MORE.

GENERAL AND WORKSHOP SESSIONS
The below traning sessions will include a Training workbook handed out, a final agenda, and the most updated information available, including newly collected data. Scott Peterson will be serving as the Lead Trainer, as well as other excellent trainers noted below.

Since 1993, Scott launched the first Local/State/Federal Project on Teen/Youth/Peer Court Programs in New York, before Designing and Launching a 10 Year Federal Project at USDOJ/OJJDP from 1997 to 2008, and then founding Global Youth Justice, Inc.

TRAINING TOPICS
Local, State, National, and Global Perspective;
Civic-Engagement, Youth Service and Essential Public Service;
Volunteer-Driven (Cost Effectiveness and Sustainable);
Youth Democracy and Law-Related Education (LRE);
Social Media Platforms and Strategic Time Saving Approach;
Marketing, Press Releases, and Community Engagement;
Data Collection and Research;
Referral Types and Referral Sources;
Positive Youth Development and Youth Leadership;
School/Community/Justice Settings;
Research, Data Collection, Tactics and Statistics;
America250 and 4TH Annual 9/11 Flag of Honor Across America Memorials, 9/11/2024;
America250 (2 Global Youth Justice Official Projects);
Grants, Resources, and Grant Writing;
Volunteer Management RTORR; Recruit/Train/Organize/Recognize/Retain;
AmeriCorps: VISTA, AmeriCorps, SeniorCorps, MLK & 9/11 Day, etc.;
Public Policy: Engaging Elected/Public Officials on Local/State/Federal;
Improving Peer-Imposed Mandated Community Service and Sanctions.

SUMMARY and BACKGROUND on these TEEN/YOUTH/PEER/STUDENT COURT, PEER JURY AND YOUTH PEER COURT.

In America, where the world's first federal/state/local effort was launched in 1993, and the first Federal/National Effort was Launched in 1997 at the U.S. Department of Justice as a 10 year project. Global Youth Justice, Inc. CEO and Founder Scott Peterson launched both of those, beginning 30 years ago on December 13, 1993 at age 23.

Not only are these Peer to Peer Diversion Programs the most replicated Juvenile Justice and Youth Justice Program in Amrica by a 10+ to 1 Margin, they are the most replicated Active Youth Civic Engagement, Essential Youth Service Program, and Inclusive Youth Democracy Program. And, in all 12 Countries, soceity is hard pressed to find a better example of Inclusive Democracy for youth.

More than 15+ types of agencies and organizations administer these volunteer-driven and youth-led diversion programs on a local level. Althought about 15 of these youth-led diversion programs were operational in the 1980's, it was not until 1993, when formal record keeping began. Despite never having been directly funded funded by the U.S. Federal Goverment, these youth-led diversion programs have continued expanding for the past 30 years.

For 30 years in America, there has never been a juvenile justice diversion that has scaled organically locally like our Youth-Led Youth/Teen/Student/Peer Court, Youth Peer Court, and Youth Peer Jury Diversion Programs, which are now in 47 States, 35+ Tribes and DC. States like Texas and Florida can easily have 50+ different entities operating these diversion programs, and there can be 10-15 different programs with different names in municipalities and schools. At this TRAINING, you will learn marketing tips and strategies to help convey to the public what your

This record expansion over the past 30 years has resulted in record numbers of youth who commit crimes, offenses, and violations, being diverted, less entrenched, issued citations, and/or avoided contact with the Justice System, but only if the youth successfully completes the requirements of these diversion programs, which they accepted responsibility to do so.

Youth/Teen/Student/Peer Court, Youth Peer Court, and Peer Jury Diverison Programs by the 100's have for 10-15 years used deflection, citations, pending arrests or charges, and other similar measues in many settings running these diverson programs such as Sheriffs, NonProfits, Police, DA Offices, Probation, and other settings. Learn more about these effective practices at this Global Youth Justice Training.

For the past 30 years, the local expansion of these Youth-Led Diversion Programs is very well documented on a local, state, and federal level. And, Juvenile Crime rates in America have plummeted over the past 30 years, as Local Communites undertaken historical efforts to scale these local youth-led diversion programsDespite this, local communities and tribes across America have continued expanding Youth/Teen/Student/Peer Court, Youth Peer Court, and Peer Jury Diverison Programs. Juvenile Justice has always been local, as it should be.

Uniquely American, the first federal or country-level effort in the world was designed and launched by the United States Department of Justice in 1997. The design applied a people-centered justice approach to Juvenile Justice Diversion, and used a public domain training and technical assistance strategy to scale them locally across America. They are a Rule of Law Model, meaning they are easily adaptable to USA States and Tribes, just like other Countries. In America, Rule of Law mirrors the law and legal system, but instead of a trial, these Diversion Programs for Juveniles are Sentencing Hearings.
ELIGIBILITY
The training is primarily limited to adults 18+ who are involved in Learning About, Establishing and Enhancing these Youth-Led and Volunteer-Driven Juvenile Justice and Youth Justice Diversion Programs, which most often go by the 7 names below. Adults include staff, volunteers, partner agencies, funders, volunters, board members, supporters, funders, and other adults involved in active operational programs. Other Adults come to Learn about these Programs, before they get others in their communities involved.

Some Communities Involve Young People Ages 16, 17 and 18 on their Committee or Board or other area, so if this is the case with your community or tribe, please feel free to register them, and we assume no liability, so please make sure you have parent or guardian approval.

The decision on lead administering agency or organization is largely left up to the local and state elected, school and public officials. As a result, 95% of the 2,000+ Youth/Teen/Student/Peer Court, Youth Peer Court, and Peer Jury Diversion Programs are administered by 15+ different agencies, organizations, and institutions. This new Data was compiled by Harvard University Graduate Students and Global Youth Justice.

Global Youth Justice, Inc. has one of the largest and most diverse networks in America, and Globally, after 30 Years, as it was first launched as a 10-Year Project at the U.S. Department of Justice in 1997 to 2008, by Scott Peterson, before he launched Global Youth Justice, Inc. in 2009, which is still 100% public domain in 2022, like it was in 1997.

New 2023 DATA

Top 7 Program Names
Youth Court Diversion Program
Teen Court Diversion Program
Student Court Diversion Program
Peer Court Diversion Program
Youth Peer Court Diversion Program
Peer Jury Diversion Program
Youth Justice Diversion Program

15+ Agencies, Organizations, and Institutions Administering these Top 7 Names for Youth/Teen/Student/Peer Court Diversion Programs.
1. Police Departments/Sheriff Departments/SRO
2. Nonprofits and Community Coalitions
3. K-12, Colleges and Universities (Public and Private)
4. Probation Departments
5. Youth Bureaus and Youth Services
6. Courts and Clerks Office
7. Social and Human Service Organizations
8. District Attorney and Public Defender Offices
9. Bar Associations, Rule of Law, LRE, and Civic Engagement
10. Tribal and Indigenous Communities
11. Social Justice and Racial Justice
12. Volunteer and Service Organizations
13. 4-H and Cooperative Extension
14. Boys and Girls Clubs, YWCA, YMCA
15. Dispute Mediation and Conflict Resolution
Global Youth Justice
2023 Training is Subsidized
Registration ONLY $195

Global Youth Justice, Inc. is subsidzing the 2023 Training by paying for trainers, and more, so the Registration Fee is only $195 and all of it will be spent back on the training, as we like to feed people! Provided food included 3 breakfasts, and lunch all 3 days, as well as 3 afternoon snack breaks, and training materials and More.
REGISTRATION FEE Only $195.

INCLUDES
3 Breakfasts and 3 Lunches
3 All Day Coffee, Soda, Water, Fruit and Snack Breaks.
3 Days of Training Workshops and Sessions
1/2 Day Session on Grant Writing and Resources
Training Materials, Notebook, and More.
HOTEL ACCOMMODATIONS
2 HOTEL OPTIONS
Most Conferences in Boston, like other major cities where Hotel Rooms are expensive, the Training and Hotel Rooms are not at the same Hotel, as that is how most trainings are in Major Cities. The Training Location is in the State-of-the-Art Conference Center at The Boston Foundation.
1 -- Your First Option is to stay at any hotel you choose, that meets your needs and budget.
below is one (1) Hotel we have a low $145+ 11% tax rate, and is only one subway ride (5-minute ride from each other or 4.2 miles). It is very common to take the MBTA Subway to Hotels up to 10 or more miles, as this typically saves $100-$150 nightly.
1st OPTION -- Use Search Engine
Find a Hotel that meets your budget and needs. In Boston, you are looking at rates typically in the $300 to $450 for middle of the road hotels per night for an average hotel room nightly. Use a Search Engine to Find a Hotel Fits your Budget and Needs
Boston Hotel Guide
Hotels.com
Kayak.com
OR -- The BEST OPTION 2nd OPTION -- $189+ TaxThe La Quinta by Wyndam of Somerville and Boston. and that included free shuttle to and from the airport, free breakfast daily, free wiwi, free parking, and much more -- The free airport shuttle saves $40 each way -- so that is like paying $149+ tax 2 days. Free Fitness Center, etc.La Quinta by Wyndam of Somerville and Boston
Global Youth Justice, Inc. Headquarters are Located in Boston, Massachusetts.
Once registrants are paid using this on-line registration platform, they will get an approval email confirming payment, and the code to call and book rooms. Global Youth Justice, Inc. has used this Hotel for our past (3) events, and it is very good. The La Quinta Suites is one street behind the new sprawling ASSEMBLY ROW Enterainment area of Somerville and Boston, which was Voted the Top Area in Boston, MA.
Assembly Row Entertainment Area
La Quinta by Wyndam of Somerville and Boston
Is a 5 minute walk to the MBTA Subway stop, to take the the Boston Foundation like 5 miles away for $3.00 each way,.
$189 + Hotel Nightly Rate plus Tax also includes:
Free Airport Shuttle to Hotel (Saves $40+ each way)
Free Car Parking
Free WiFi
Free Breakfast
Free Luggage Hold
AND -- this rate is good beginning the night of 10/1 through the Night of 10/07 -- so take an extra day or two vacation. For the Training, 90% arrive Sunday and Depart late Early Thursday.
La Quinta Inn & Suites by Wyndham Boston Somerville
COVID-19 Safety Precautions

Participants should evaluate their own health needs, risks and conditions, and attending any training or conference is a 100% voluntary decision, just like optional fun evening activities, which we will plan each night. Feel free to wear mask the whole time, or not at all, and anything else you need. However, there are NO Restrictions, and things are back to normal like they were before COVID.

Of course if the City of Boston or The Boston Foundation had requirements, we would follow those.
Keynote Speaker and Special Guests w/Short Bio Below.

FEATURED SPEAKER
Honorable Arthur L. Burnett, Sr.
Co-Founder, Global Youth Justice, Inc.
Board, Vice President

LEAD TRAINER
Scott Bernard Peterson
Co-Founder, Global Youth Justice, Inc.
CEO and Board President.

SPECIAL PRESENTERS: Connie and Terri are two of the best Directors in the Country running these Diversion Programs, and we plan to have both help with this Training, as they have numerous times.

CONNIE JONES HAIRSTON
White Plains Community Youth Court
Director
New York

Terri Belliveau
Youth Services Director at PAACA and Director, South Coast Youth Courts.
Massachusetts, USA



Honorable Arthur L. Burnett, Sr.
Co-Founder and Board Vice Presdient 2009 to Current.

Scott Bernard Peterson
Co-Founder, Board President, and CEO.
HONORABLE ARTHUR L. BURNETT, SR.
KEYNOTE SPEAKER
Detailed BIO
Audio BIO by Historical Society of the District of Columbia Circuit
At almost 90, the Honorable Arthur L. Burnett, Sr. has lived an extroadinary life in public, behind the scenes, and at the highest levels of the U.S. Government. Some highlights include his appointment as America's 1st African American Federal Magistrate Judge in 1969, Presiding Judge Twice for the Superior Court of the District of Columbia, Appointments by U.S. Presidents (D) and (R), Adviser directly to Attorney General Robert F. Kennedy, Multiple Federal, National and Amerian Bar Association Appointments and Awards, United States Army, United States Attorney's Office, Law Professor, and
Honorable Arthur L. Burnett, Sr. has been Executive Director of National African American Drug Policy Coalition Inc., Co-Founder and Board Vice President of Global Youth Justice, Inc. (2009-Current), Co-Chaired 1st 9/11 DAY Flag of Honor Across America Memorials on the 20th Anniversary of September 11, 2021. Judge Burnett has been Keynote Speaker for 23 of 30 Global Youth Justice Trainings and Conferences.
HISTORICAL BIO by HISTORICAL SOCIETY of DC CIRCUITHONORABLE ARTHUR L. BURNETT, SR.
For anyone looking for hopeful distraction from the doldrums of Covid-19, I can recommend an encounter with the life and career of Arthur Louis Burnett, Sr., now 85 years old. He is a retired Judge of the District of Columbia Superior Court and served as the first African American to be appointed as a United States Magistrate Judge – and he is the subject of a new oral history.
Born in a farmhouse without running water in rural and segregated Virginia in March 1935, Judge Burnett's rise to accomplishment and his attitude and demeanor combine to create an inspiring American story. He fed the chickens and pigs at home and suffered the indignities of segregation. But he showed promise at an early age. His high school agriculture teacher wanted him to go to Tuskegee Institute to become an agricultural expert. His Baptist minister, with whom he had worked as an assistant youth preacher, urged him to attend Virginia Union Theological Seminary (for "colored" persons).
"But," as he says, "I wanted to change society and help bring equality and justice to Negroes, seven days a week, not just preach on Sundays on how to get to Heaven." So, after stellar undergraduate work at Howard University, graduating summa cum laude, he ended up at NYU Law School under unusual circumstances. In 1954, after Brown v. Board of Education, the young Burnett was selected to be the test case to integrate the University of Virginia Law School, where he had applied for admission.
He also applied to New York University School of Law and elsewhere and was accepted at every school – except UVA. But the NAACP made a tactical decision not to proceed legally against Virginia at that time, in light of its focus at the time on the Little Rock integration battle. The Commonwealth of Virginia ultimately agreed to fully fund Burnett's tuition and living expenses at NYU to avoid a confrontation. Burnett graduated 24th in a class of 267.
The oral history covers Judge Burnett's subsequent experiences in the Honors Program at the Department of Justice, where he worked for an extended period as a special assistant to Attorney General Robert Kennedy. He later became the Legal Advisor (now called General Counsel) to the District of Columbia Metropolitan Police Department. In 1969, he was named the first black U.S. Magistrate (later, Magistrate Judge), a position he held for fourteen years during two separate appointments.
He led efforts, along with the Federal Judicial Center, to improve the quality of affidavits for arrest and search warrants. He helped broaden the role of preliminary hearings to permit defense counsel to call witnesses when the government sought to keep a defendant in custody in lieu of bail. And he led the effort to convince Congress to give Magistrate Judges the authority to try civil cases with the consent of the parties, sitting as substitute district court judges without requiring a subsequent de novo trial before a federal district judge. He became President of the National Association of United States Magistrates in 1984, and remains proud of his innovative contribution to both the criminal justice and civil litigation systems.
Judge Burnett was appointed to the D.C. Superior Court in 1987 and served as Judge and Senior Judge until 2004. He also worked with Marion Wright Edelman as "Judge in Residence" at the Children's Defense Fund. After his "retirement," he continued – and continues to this day – to be involved in the National African American Drug Policy Coalition and several other non-profit organizations.
As a black man growing up in the segregated South, Judge Burnett suffered all the indignities and injustices of the era, as his oral history recounts. But throughout his life, he has retained a remarkable grace and equanimity – making the best of his situation rather than raging against it, but at the same time maintaining a commitment, developed early in life, to remedy injustice.
The Honorable Arthur L. Burnett, Sr. looks forward to meeting everyone in Boston, Massachusetts this November, 2023.
SCOTT BERNARD PETERSON
CEO, Board President, and Founder
Global Youth Justice, Inc.
Scott on Twitter
Scott on Facebook
Scott on LinkedIn
LEAD TRAINER: For 30 Years, Scott has been leading authority on these diversion programs, and just about all USA and International Efforts on these Diversion Programs, and Scott established one of USA's earliest Youth Court Diversion Programs, and served as Executive Director of Youth Courts of the Capital District, Inc. in NY from 1993 to 1997. By 1997, he helped replicated it in 50+ Communities and Tribes in New York. In 1997, he was hired in the Executive Branch of the United States Government, at U.S. Department of Justice (OJJDP) to Launch the World's 1st Federal or National NGO Youth-Led Youth Court Program. By 2008 when he left, these Youth-Led and Volunteer-Driven Diversion Programs had become the most replicated Juvenile Justice Program in America, since the 1st Juvenile Court in 1899 in Cooke County, Illinois.
While at USDOJ for a10+ Years, Scott Peterson served on the Federal Internagency Committee for Education for 10 Years and Federal Mentoring Council for 8 Years. Scott managed more than $250 Million in Federal Grants and Cooperative Agreements in the National Training and Technical Assistane Division, and typically actively managed two to three times more national level projects than other staff in the office, and many of the most high profile projects. Scott led the Federal Effort to Develop Guidelines for the Dependency Court and Delinquency Court, and headed up the 100th Anniversary for the Juvenile Court and 100th Anniversary of Big Brothers Big Sisters of America. Scott has visited more then 150+ Local Youth/Teen/Student/Peer Court Diversion Programs in 40 States and traveled to 7 of 11 Countries to help them launch their first Diversion Program.
Scott launched the 1st Federal, 1st Private National, and 1st Global called "Global Youth Justice, Inc." on Youth/Teen/Student/Peer Court and Peer Jury Diversion Programs. He is a graduate of the Prestigious FBI Citizens Academy, has received numerous Awards ranging from the United States Attorney's Office to Federal Bureau of Investigation to United Nations. Scott is Founder and CEO of Global Youth Justice, Inc. (2009-Current). In 2021, Scott designed and launched the 1st Annual 9/11 DAY Flag of Honor Across America Memorials for the 20th Anniversary of the Tragic Events of September 11, 2001. It became the largest 9/11 Day Multi-Site Project in 2021, and 2022, and was also selected as 1 of only 5 Federal 9/11 Day Projects to Launch on the 20th Anniversary of September 11, 2022.
Scott Peterson and the Honorable Arthur L. Burnett, Sr. are designing a scaleable Adult Version of Youth/Teen/Student/Peer Court Diversion Programs called the Community Acceptance Program, a Front-End Diversion Program for 18 year old to Seniors. It will be Public Domain, Volunteer-Driven, and use a similar People Centered Justice Approach, that Scott used in 1997 at the United States Department of Justice, when designing the 10 year strategy to scaled local Youth/Teen/Student/Peer Court Diversion Programs, Youth Peer Court, and Peer Jury.
After graduating from the State University of New York at Buffalo in 1991, Scott's first job was opening a homeless youth shelter in New York, where he also worked for three years, and was appointed to the Albany County Homeless Coalition Board, Town of Colonie Youth Bureau Board, and by New York Governor George Pataki to the NYS Division of Criminal Justice Services Juvenile Advisory Board. Scott is the only federal employee to be a whistle blower to expose the Fraud that goes on, as a result of the Federal Government not releasing the Score and Rankings of Billions in Federal Grants each year, and selecting applicants scoring 10 and 20 points lower than other higher scoring applicants.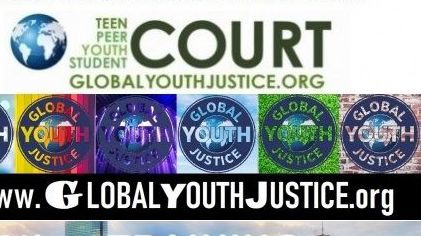 TERRI BELLIVEAU
DIRECTOR, Youth Services Director
Positive Action Against Chemical Addiction, PAACA
PAACA Website

SOUTH COAST YOUTH COURTSNew Bedford Youth Court and Fall River Youth Court

South Coast Youth Courts
Guest Speaker:
Terri is the Director of Youth Services at Positive Action Against Chemical Addiction, which runs Massachsuetts and New England most well know and well respected South Coast Youth Courts. She is also Director of the New Bedford and her excellent colleague Yajaira Romero is Director of The Fall River. Terriand is a driving force behind this excellent diversion program, and for many years she has assumed many roles and is excellent and will share insightful information for all in the training.
She is New England's leading expert on Youth Court, and has presented at many Global Youth Justice Trainings, and the South Coast Youth Courts she heads up is an excellent example of working with at-risk youth and high-risk youth, and this includes nights and weekends, as it should be. Terri will share helpful information on a model that she they use as an a 2nd program model, and is also organizing youth to come to on how you can establish or enhance a Youth Court Diversion Program from multiple aspects including Youth Development.
Special Guest: Yajaira Romero, Fall River Youth Court Director, MASouth Coast Youth Courts
New Bedord and Fall River Youth Courts
South Coast Youth Court is a voluntary juvenile diversion program offering juvenile respondents the opportunity to accept responsibility for their actions and to resolve criminal charges through adjudication by their peers. The South Coast Youth Court also serves to educate young people to develop understanding and respect for the justice system.