Artistic Ventures into the Unconscious
With Ann McCoy & Chantal Powell
Online Course - Sundays 30th April - 28th May 2023
About the Course
Join us on a transformative journey for artists, introducing a range of ideas and practices that explore the mysterious realm of the unconscious, and its influence on visual artists, both past and present.

Each week Ann McCoy will lecture on themes such as: the Jungian unconscious as a place of transformation and revelation, women spiritualists and visionaries, the alchemical imagination, and working with the dreamworld. She will share examples drawn from conversations with artists she personally knew such as Ana Mendieta, Joseph Beuys, Hermann Nitsch, and Carol Schneemann, as well as artists evolving in these tradition today.

In the second half of each session Chantal Powell will guide you through a practical automatic technique developed by the Surrealists and earlier visionaries who used these creative methods to bypass conscious thinking. You will be given new intuitive ways of image making to incorporate into your work and be introduced to a deeper understanding of the role of the unconscious in the creative process.


Zoom Online (all sessions recorded and sent after)
5 Weeks - 30th April - 28th May
Sundays - 8pm UK time / 12pm pacific / 3PM Eastern
Weekly sessions are between 90 - 120 mins
£125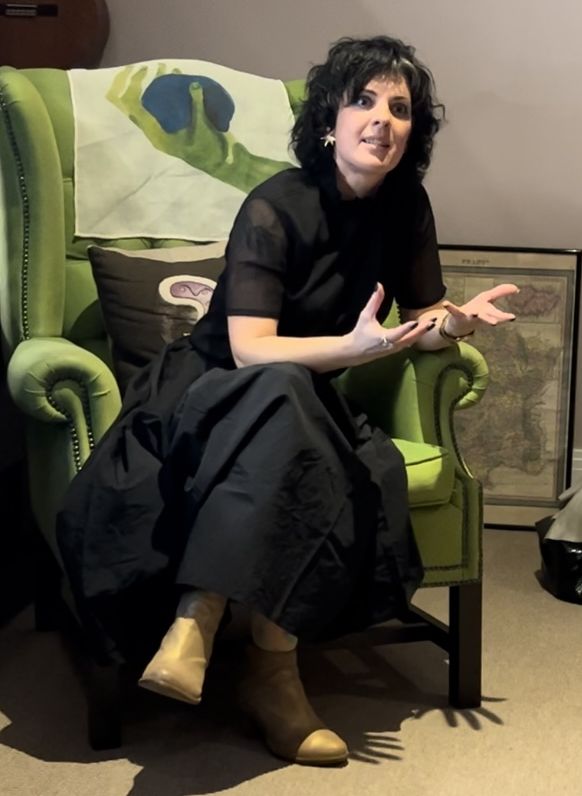 Meet the Course Leaders
Ann McCoy is a New York-based sculptor, painter, and art critic, and Editor-at- Large for the Brooklyn Rail. Ann is known for her large scale drawings of the dream world and has work included in many collections including the Metropolitan Museum of Art, the Los Angeles County Museum, the Museum of Modern Art, and the Whitney Museum of American Art. In 1985 her work featured in the Venice Biennale "Art and Alchemy" curated by Arturo Schwarz. She was awarded a John Simon Guggenheim Foundation Fellowship in 2019 and has also received awards from the Pollock Krasner Foundation amongst many others.

Ann McCoy worked with Prof. C.A. Meier, Jung's heir apparent for twenty-eight years in Zurich She has studied alchemy since the early seventies in Zurich, and Rome at the Vatican Library.

Ann has lectured on art history, the history of projection, and mythology at the Yale School of Drama until May 2020, and taught at Barnard College from 1980 through 2000. Ann now lectures on Jung and the artistic process from over fifty years of analytical experience and feels strongly that creative people have a unique approach to the unconscious, that comes from working with actual materials, and in-between dream states.




Chantal Powell is an UK-based artist, educator and curator.
Her art practice explores the symbolic language of the unconscious and is informed by a PhD in social psychology and an ongoing study of Jungian theory and inner alchemy.

Over recent years she has been researching first-hand the imagery in alchemical manuscripts and notebooks from the 15th and 16th century. Combining archetypal symbols from these sources alongside those from mythology and personal inner work, she makes art that brings awareness to the importance of energy-filled symbols to connect us to a world beyond that of the rational conscious.

Chantal is also the founder of the artist residency program "Hogchester Arts" in West Dorset and hosts the Jungian online book club and speaker program "The Red Book Club". She presents illustrated talks and workshops on psychological alchemy from an artist's perspective and has co-curated exhibitions with a focus on archetypally symbolic art.
Course Outline
WEEK 1
Lecture: The Unconscious - Introduction to the unconscious and how artists have approached it as a place of transformation and revelation.
Workshop: Parsemage

WEEK 2
Lecture: Dreamworld - Working with dreams as letters from the unconscious. How artists have used and depicted the dreamworld across time.
Workshop: Automatic Drawing

WEEK 3
Lecture: Living Archetypes - How artists work with the Archetype figures, states and elements as living realities.
Workshop: Decalcomania

WEEK 4
Lecture: Devotional Practices - Images of the sacred and what Jung called the Self. Ways contemporary artists are redefining sacred ritual and practice.
Workshop: Entopic Graphomania

WEEK 5
Lecture: Alchemical Imagination - An introduction to alchemical images and processes including a discussion of how artists use alchemical symbols. Concepts like incarnation and transmutation will be discussed.
Workshop: Fumage


What to bring
The workshop element of the course will take place live. You can also watch recording later.

Materials List
- Sheets of paper (drawing paper, and paper suitable for paint)
- Pencil and pen
- Watercolour paints and/or coloured pencils or indian ink
- Acrylic paint
- Plastic acetate sheet (or cling film)
- Charcoal sticks and knife or charcoal powder
- Rectangular casserole dish or similar container large enough to easily fit A4 sheet of paper
- Candle and lighter/matches


JOIN US
Sundays - 8pm UK time / 12pm pacific / 3PM Eastern
5 Weeks - 30th April - 28th May

£125
Processing Registration...
Powered by: