Speakers
We'll be adding more every day, obsessively.
Laurie Aquilante Faiola
VP of Marketing
HubSpot
Vinay Bhagat
Founder & CEO
TrustRadius
Clair Byrd
CMO
Sauce Labs
Genefa Murphy
CMO
Five9
Cynthia Hester
Director, Global Customer Programs
Google
Gal Biran
CEO & Co-Founder
Base
Luis Gonzalez
Sr. Manager, Global Customer Advocacy
Alteryx
Kalina Bryant
Founder
unapologeTECH
Allyson Havener
Vice President of marketing
TrustRadius
Alison Bukowski
HEAD OF MARKETING
PeerSpot
Eran Livneh
Founder & Chief ABM Officer
MarketCapture
Jayne Gonzalez
VP OF CORPORATE COMMUNICATIONS
Freshworks
Colin Crowley
SR. DIR. CUSTOMER ENGAGEMENT
Freshworks
Steve George
Sr. Customer Advocacy ManageR
GitLab
Hrishi Kulkarni
Customer Marketing & Executive Programs
New Relic
Max Bailey
Associate Director, Customer Marketing
Frontify
Jennifer Norrie
Senior Customer Marketing Manager
DocuSign
Cliff Simon
Chief revenue officer
Carabiner Group
Scott K. Wilder
Head of Digital Success
Clari
Adrian Chang
VP Growth & Customer Experience
Mindtickle
Sana Farooq
Sr. Dir. enablement & customer education
Jean Chapin
Sr Director, customer experience and digital success
Malwarebytes
MK Getler-Porizkova
CMO
Loop & Tie
Kyra Hennessey
Customer Marketing Lead - Americas
Freshworks
Meenakshi lakhwani
Senior Customer Advocacy Manager
Workday
AJ Cartas
Head of community
ActiveCampaign
Amy Friedman
Director, Customer Advocacy
Workday
Corrine Russo
DirectoR, Global Customer Expansion & Growth Programs
Red Hat
Andreas Silva
Customer Advocacy Manager
Alteryx
Nick Bennett
Sr. Director of ELG & Evangelism
Airmeet
Evan Jacobs
Head of Customer & Partner Marketing
Chainanalysis
Jessica Day
Customer marketing, brand advocacy and storytelling
Dropbox
Christina Garnett
Principal Marketing Manager, Offline Community and Advocacy
HubSpot
David Coates
Director, Customer Marketing
Forter
Bridget Heaton
SENIOR MANAGER, CUSTOMER MARKETING
Slack
Chris Irwin-Dudek
global head corporate communications
Nice
Robert Solby
Customer marketing manager
Adobe
Gillian Farquhar
Vice President, Customer Transformation
Qlik
Kelley Vallone
Director of Marketing, North Americas and Global Strategic Accounts
Forter
Evan Hamilton
DIRECTOR OF COMMUNITY
HubSpot
Anthony Kennada
CO-FOUNDER & CEO
AudiencePlus
Steve Cornwell
Founder & CEO
Northpass
Riciel-Grace Crudo
CUSTOMER REFERENCE MANAGER
JFrog
Michelle Viray
Senior Manager, Customer Marketing
Coupa
Kinzie Trompak
Team Manager, Customer & Partner Events and Programs
HubSpot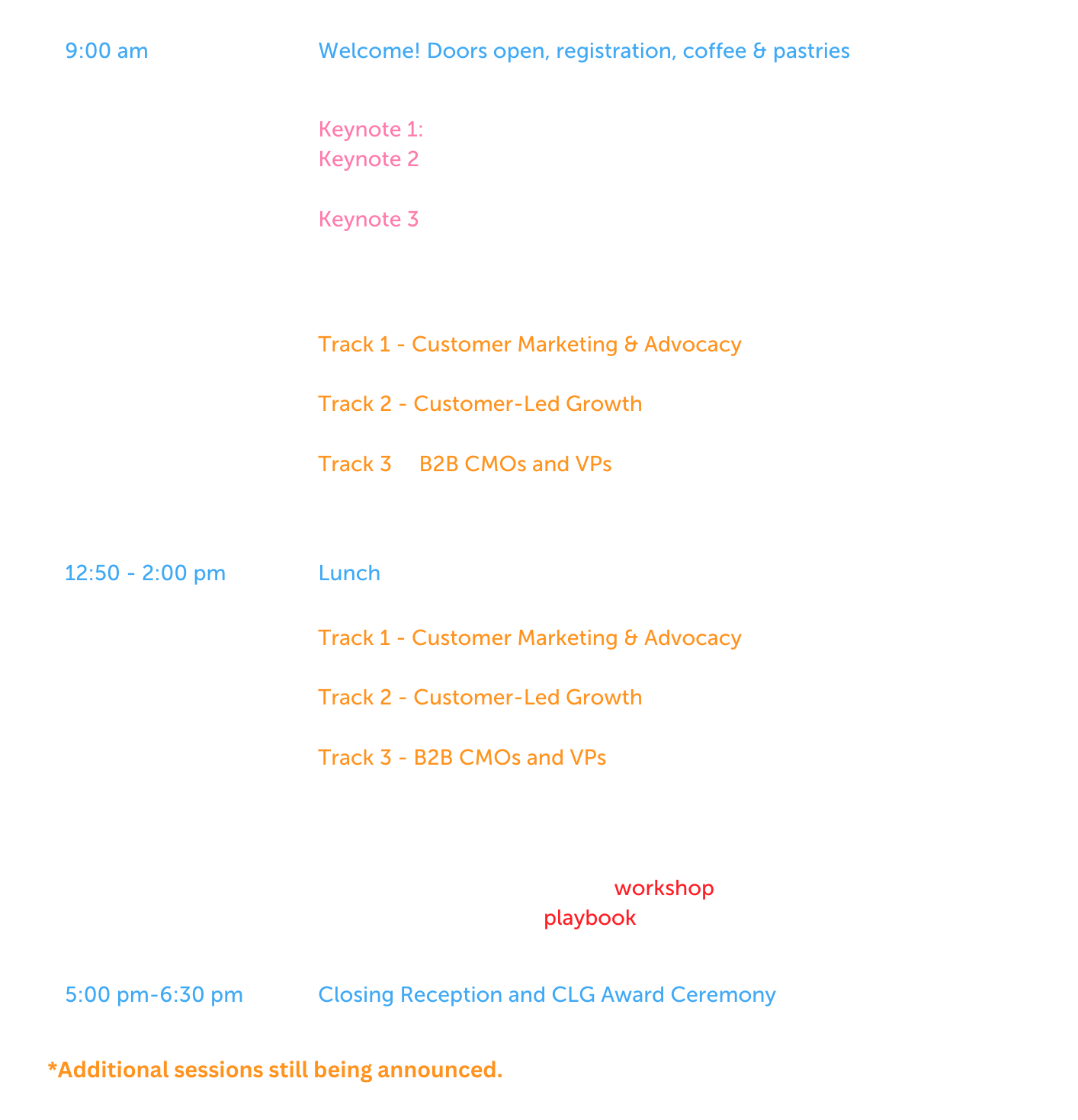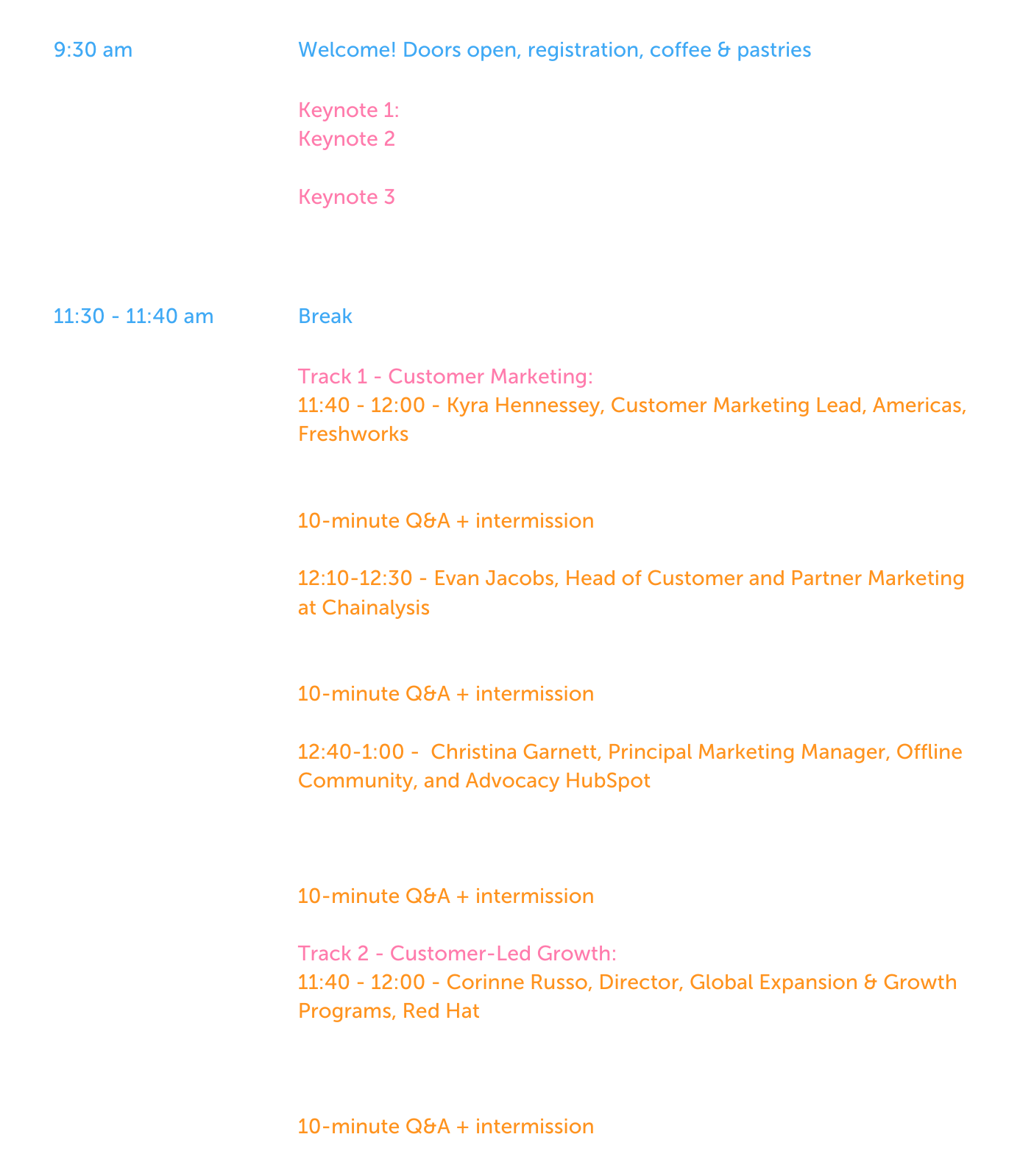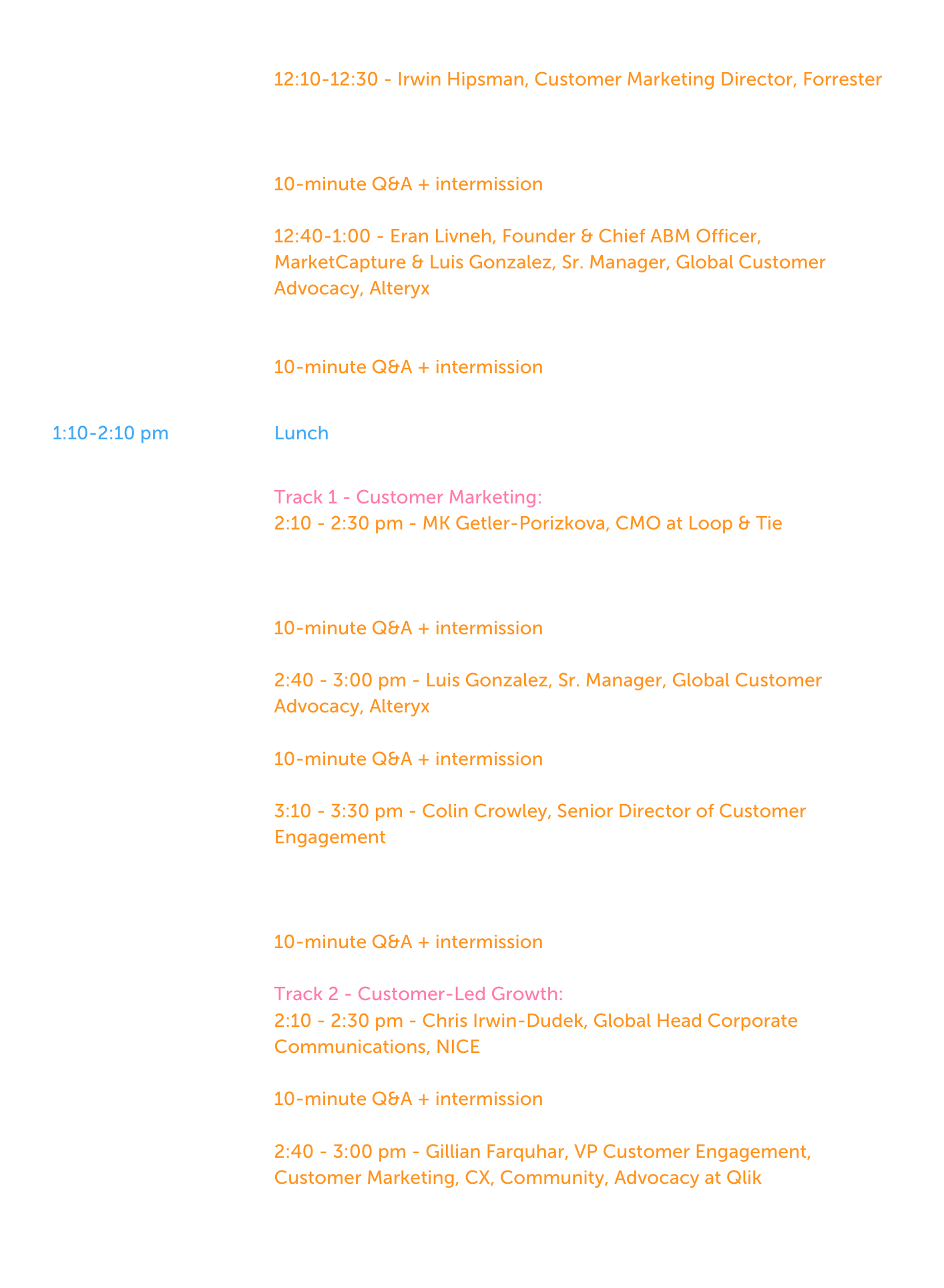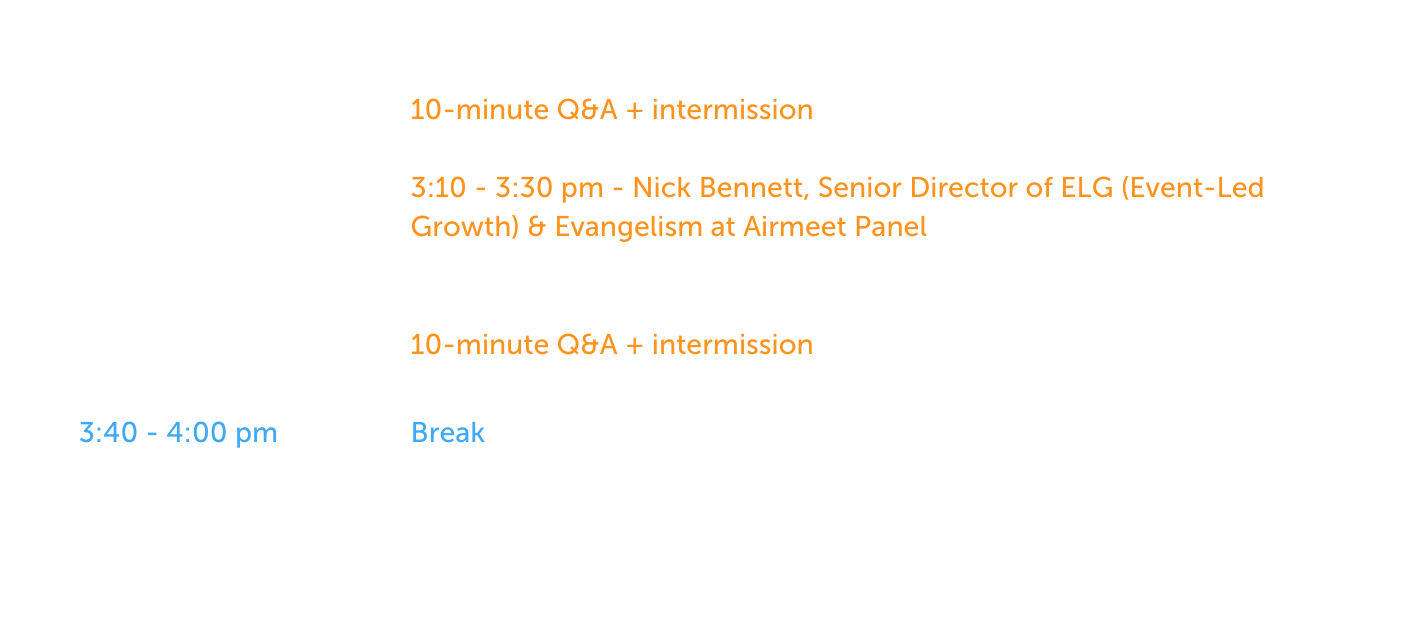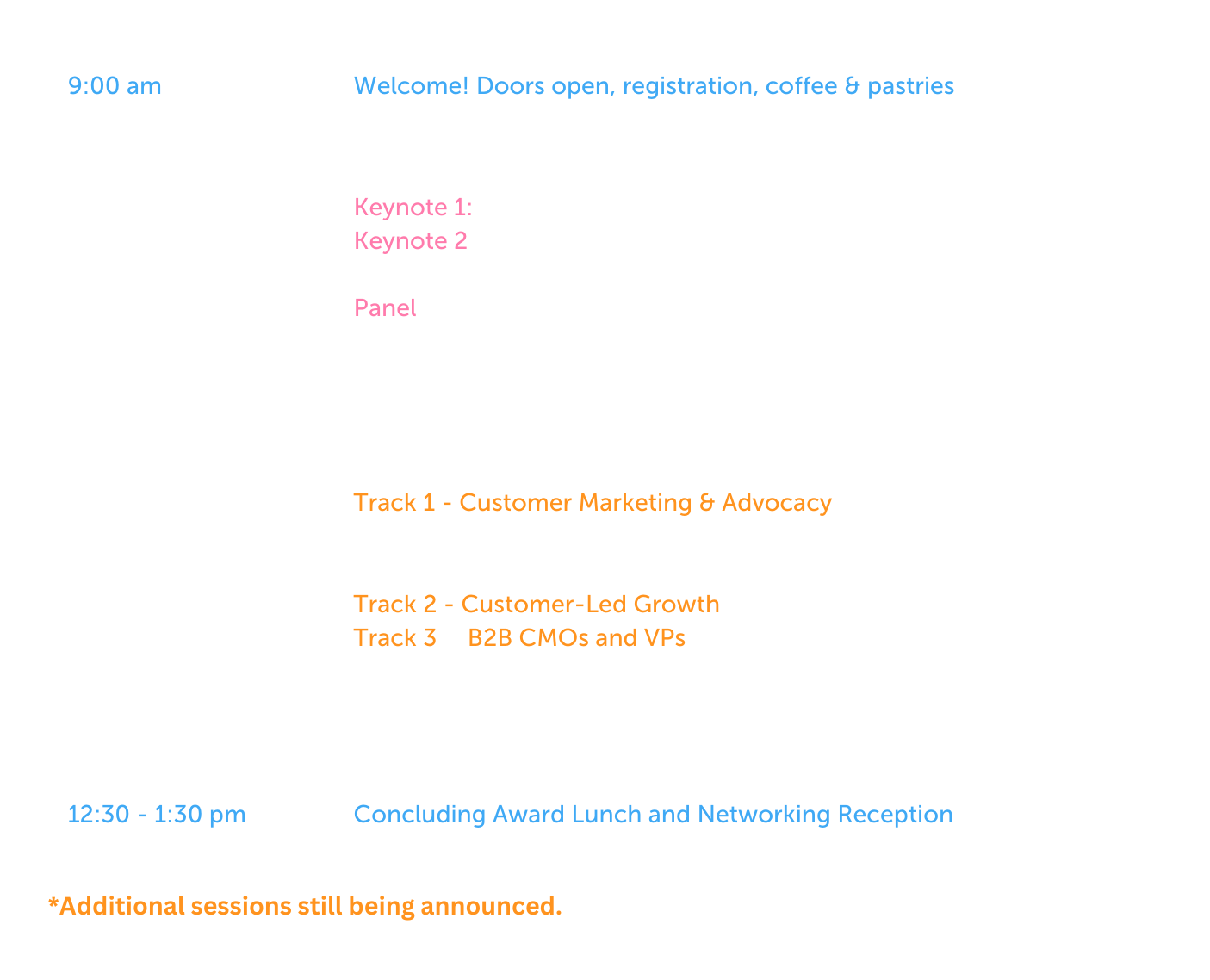 Welcome to the first Obsession CLG Tour 2023!

Join us in San Francisco, Boston and NYC for Obsession Summit, the industry's premier Customer-Led Growth conference, now on tour!

The Obsession CLG Tour is a series of single-day gatherings designed by and for CMOs, customer marketing, advocacy practitioners, reference program managers, lifecycle marketing, and community managers to drive the evolution of Customer-led Growth.

With a strong emphasis on knowledge-sharing, attendees will hear from top-performing brands and participate in sessions for any level of experience, from beginners to seasoned CMOs. Whether you're a marketing, advocacy, or community professional, Obsession provides a high-quality learning and networking experience that is relevant and valuable to all.
Location
Hilton Parc 55, San Francisco
District Hall, Boston
Oasis by Workville, 315 W 35th St, NYC
Date & Time
June 8, 2023
June 12, 2023
June 14, 2023
Meet our Customer-obsessed sponsors
created by and for customer-obsessed professionals
Tap into a professional community like no other! Driven by a commitment to customer-obsession, the world's most accomplished customer marketing, advocacy, reference, lifecycle and community practitioners are here to help you grow – your practice and your career.
Get geared to take the next steps in your evolutionary path from customer marketers to customer-led growth leaders with revenue impact. Benefit from networking and learning with peers and strategists who have been where you are going.
B2B CMOs
AND VPs
Be a part of a think-tank of
marketing leaders sharing customer-led strategies and discussing how to realign marketing orgs around the customer, hear stories from the trenches and pave your own way to Customer-led Growth (CLG) success.
be obsessed with the experience

Find products, discover solutions, and take a hands-on approach to define your framework for success. Whether you've been in the industry for years, or you've just joined the incredible customer-obsessed community, this is your annual event to explore the possibilities and collaborate with your peers.


Meet and hear true stories of triumph, success, experimentation, and lessons learned from Obsession's Industry Advisory Board, fellow community members, other B2B practitioners, and thought leaders from the world's largest enterprise organizations. From manager to CMO, we have sessions for every level.

B2B organizations are facing a barrage of new challenges around acquisition and loyalty due to evolving customer behaviors. With great challenges comes great opportunity. Build your base, tackle obstacles to success, and leverage the momentum of Obsession to redefine customer-led growth for your org.

Join us on June 8, 12, & 14 at your nearest location
We look forward to hosting you in SF, Boston and NYC!
build your agenda with sessions in a range of learning tracks
CUSTOMER-LED GROWTH & REVENUE IMPACT

Develop a customer-led growth strategy to impact revenue through acquisition, adoption, growth and retention.

CUSTOMER MARKETING TODAY AND TOMORROW

Get the building blocks to create a foundation, optimize current processes, and up-skill to thrive with customer marketing today.

THE POWER OF ADVOCACY & COMMUNITY

Leverage connections and develop loyalty to drive advocacy and community programs that fuel Customer-Led Growth.

THE 3 Rs: REFERENCES, REFERRALS, REVIEWS

Give rise to customer voices and transform the 3 Rs of your business into revenue and efficiency drivers.
Processing Registration...